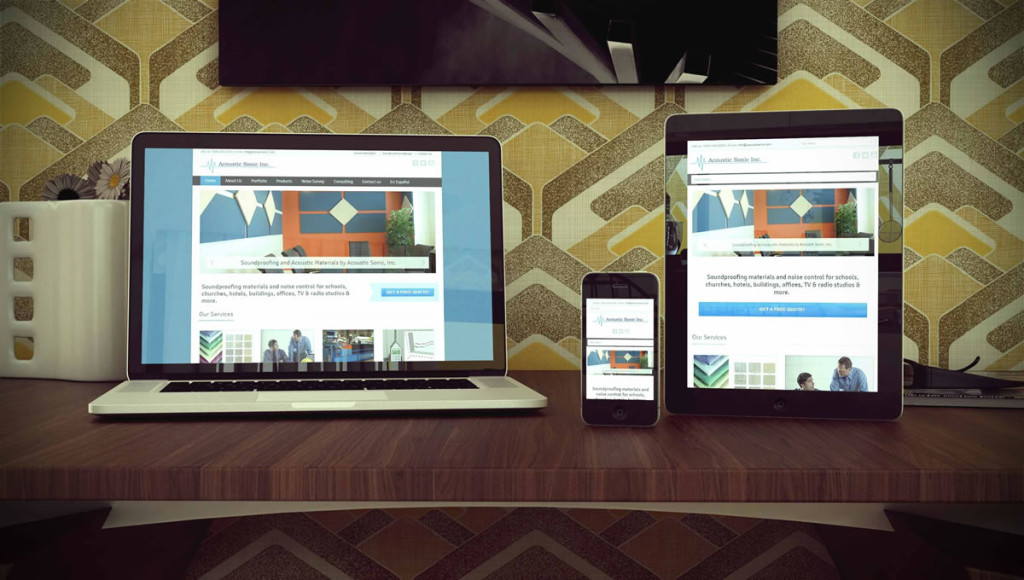 Responsive web design creates websites that adapt themselves to provide an optimal viewing experience across all platforms and displays. Responsive website design will provide your visitors with a personalized, interactive experience, as the pages dynamically adjust themselves according to their visitors' screen size, width, and resolution.
One website for every screen
Responsive web design allows your website to look its best on whatever device is displaying it. At any given time, people may be viewing your website on television screens, computer monitors, laptops, netbooks, consoles, tablets, phablets, smartphones, even wearables, all with a variety of resolutions, shapes, and sizes.
The number of mobile users surpassed desktop users in 2014. Websites can appear distorted and lose functionality if they are not designed to fit the viewer's platform. About half of mobile users report having problems while viewing a static website, and that navigation is difficult on a smaller device.
To address this, some web designers will design two versions of the same website, one desktop site, and a separate site for mobile users. But as the diversity of platforms increases, this method will become increasingly difficult to manage. Instead of designing a different website to fit every platform and type of display, the answer is responsive web design.
Responsive web design is an in-demand, cost-effective practice. It saves you money by removing the need for a separate website for mobile users. It maintains functionality, ensuring that your users are not driven away because your site does not display properly on your device. And since nearly 70% of tablet users report using their tablet to make a purchase in the last thirty days, a responsive website can mean more sales.
How it works
Responsive web design solves the problem of making the same code work across multiple platforms and screen resolutions. Responsive websites use multiple fluid grid layouts, which are self-adjusting and will adapt to any screen, without compromising function or appearance. It detects the width and shape of the browser, and breaks itself along a proportion-based grid while displaying flexible images.
Responsive web design uses context-aware images, which fluidly resize and rescale themselves based on the user's display, ensuring that photos and designs always look sharp. Styling elements are chosen carefully to further enhance readability, distinguishing between content blocks and functional elements. These techniques allow responsive websites will adapt their layout to the viewing environment, with minimal resizing, panning, zooming, or scrolling.
Responsive web design allows websites to dynamically change their display to respond to their environment.
Your Miami web design Team
Comments
comments